The Fosse aux lions (The Lion's Den) is a pitch competition for Manitoba's bilingual entrepreneurs to promote their product, business idea or expansion project. To be eligible, you must be able to speak French and your business must be located in Manitoba.
Four finalists will be part of the grand finale, usually held annually in April.   
$ 15 000 cash prize
World Trade Centre Winnipeg Prize – Registration to the Trade Accelerator Program (TAP)
Graphic design services
Mentoring from CDEM
Free advertising
Visibility on every CDEM media platform
Submission of projects – January 31, 2022
Announcement of the four finalists – March 28, 2022
Finale at the Théâtre Cercle Molière – April 27, 2022
The deadline to submit your project is Monday, January 31, 2022. Email the completed forms to jlemoine@cdem.com
To participate in la Fosse aux lions, you must fill out the registration form and financials form. (available in French only)
Committee and Evaluation Criteria
The evaluation committee includes members of the French-speaking business community, CDEM representatives and the Francophone Chamber of Commerce of St. Boniface. The evaluation committee will select the finalists according to the following criteria:
Realistic and Feasibility (40 %)
Commercial Potential (30 %)
Innovative Spirit (20 %)
Personal Appreciation of the Evaluation Committee (10 %)
The jury includes successful entrepreneurs from Manitoba. Their role is to evaluate each finalists' presentation and the participants' ability to defend their project and answer to the jury's questions.  
Entrez dans la fosse, entrez dans le club!
The Fosse aux lions is a fun and dynamic competition in which every finalist will pitch their business to the jury.  Each finalist will present their business in a two-minute video (produced by CBC/Radio-Canada), then they will deliver their final business pitch (5 minutes) and answer the jury's questions (5 minutes). The objective is to convince the judges of the quality of their project and to explain in detail the impact the grand prize would have on their business. The winner will be disclosed at the end of the evening after the jury's deliberation.
Many thanks to the generous sponsors who support the French-speaking entrepreneurs and allow them to dream big!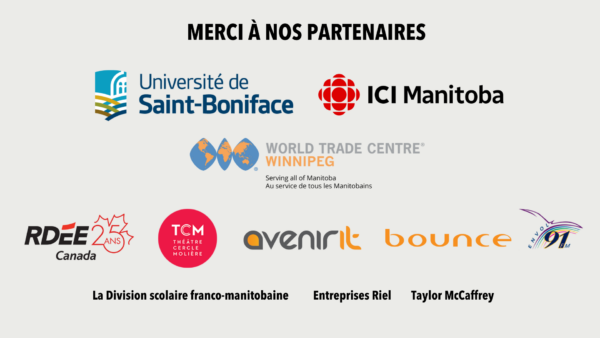 2011- Joanne Gobeil, Fried Green Tomatoes
2012- Pierrette Sherwood, Papillons Créations
2013- Andréanne Dandeneau, Voilà par Andréanne
2015- Julie Germain, Julie's Creations
2016- Daniel et Micheline Malo, Rat River Sales & Service
2017- Matthew Sabourin, La Brasserie Nonsuch Brewery
2018- Dominique Noël, La Cabane Guest House
2019- Ketty Pichaud et Yvonnick Le Lorec, Ker Breizh
2021- Jennifer Marcheterre, Jeux Sam Amuse
2022 – Sarah-Michelle Senécal, Stable Connections 
Financial and Business Advisor